Soil
Rhododendrons and azaleas grow best in light, well-drained soils with good soil aeration and an ample supply of soil moisture during the summer. They can be grown in heavy soils if special precautions are taken.
A soil high in organic matter or humus such as decayed oak leaves, pine needles or other acid-type compost is desirable for growing rhododendrons and azaleas. Beware of most peat moss available today. Much of it is of poor quality; often it is very fine and holds too much water for good soil aeration. It is not suitable for mixing with heavy clay soils. In hot or alkaline soil areas where rhododendrons are frequently grown in straight pine bark with little or no soil added, care should be used in obtaining a fine grade or small particle pine bark.
Rhododendrons and azaleas, in general, require an acid soil with pH about 5.5. Soils with pH higher than 5.5 should be acidified.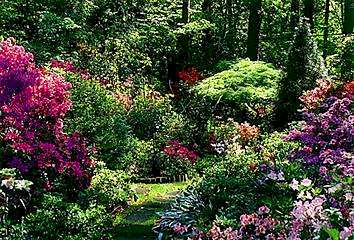 Rhododendrons and azaleas flourish
in a woodland garden.
Photo by Rosalie Nachman
Copyright © 1996, ARS
---
American Rhododendron Society
Executive Director: P.O. Box 525, Niagara Falls, NY 14304
Ph: 416-424-1942 Fax: 905-262-1999 E-Mail: lauragrant@arsoffice.org
©1998-2015, ARS, All rights reserved.