Plant Selection
It is best to begin with hybrid or species rhododendrons and azaleas that are recommended for your area. The chapter of the American Rhododendron Society nearest you can supply guidance in selecting the most suitable varieties. (See "proven performer lists".)
Plants can be purchased from your local nursery or garden center or from a reputable mail order firm. Sometimes varieties not suitable for your area are found at local discount stores or even garden centers, making care in selecting your varieties especially important.
Rhododendron plants at nurseries are available as very small plants without flower buds or as larger plants with flower buds already formed. Evergreen azalea plants usually have flower buds even if the plants are very small.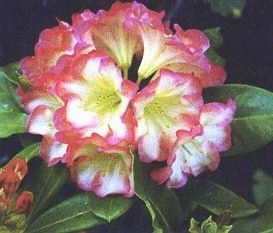 R. 'George's Delight'
Photo by Bill Heller
Copyright © 1996
---
American Rhododendron Society
Executive Director: P.O. Box 525, Niagara Falls, NY 14304
Ph: 416-424-1942 Fax: 905-262-1999 E-Mail: lauragrant@arsoffice.org
©1998-2014, ARS, All rights reserved.