Botanical Classification
Rhododendrons and azaleas belong to the genus Rhododendron of the heath family (Ericaceae). The heath family includes the heaths and heathers, blueberries, mountain laurels and several other ornamental plant groups. Most members of this family require acid soil and good drainage.
More than a thousand species have been described within the genus Rhododendron. These species are currently organized into subgenera, sections and subsections, with the species in each group having certain points of similarity to each other. All azaleas are rhododendrons, with deciduous azaleas belonging to one subgenus (Pentanthera) and evergreen azaleas to another subgenus (Tsutsusi). More classification information.
Many of our cultivated rhododendrons are derived from Asian species which grow in the foothills of the Himalayan mountains, western China, northern India, Burma and Assam. Others are derived from species native to Japan, Europe and eastern and western North America.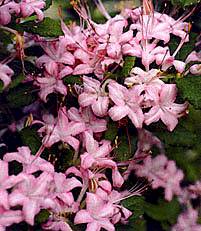 R. 'Tsuneshige Rokujo'
Photo by Polly Hill.
Copyright © 1996, ARS.
---
American Rhododendron Society
Executive Director: P.O. Box 525, Niagara Falls, NY 14304
Ph: 416-424-1942 Fax: 905-262-1999 E-Mail: lauragrant@arsoffice.org
©1998-2015, ARS, All rights reserved.