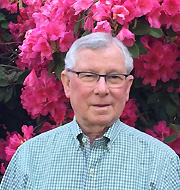 Welcome from Bill Meyers - ARS President:
On behalf of the thousands of rhododendron enthusiasts worldwide "welcome to our web site." Here you will find valuable resources which enable you to learn more about the selection and care of rhododendrons. We hope this will encourage you to explore all that the genus Rhododendron (which includes azaleas) has to offer, and you will include these wonderful plants in your garden.
"Take a look" at what we do in the Society...
---

2022 Silver Medal and
Pioneer Achievement Awardees
The ARS takes great pleasure in presenting its 2022 Silver Medal honors to Mike Bones of the Siuslaw Chapter, Henning Christensen of the Danish Chapter, Douglas Justice of the Vancouver Chapter and Chris Southwick of the Nanaimo Chapter.

2022 Pioneer Achievement honorees are Peter Cox of the Scottish Chapter and Donald L Craig, deceased.

View the honors citations.

Rhododendron International Volume 7
The latest volume of this free online journal contains articles of interest to rhododendron aficionados. Read about rhododendron choices for smaller gardens, cultivation of rhododendrons on limestone, and see postal stamps from around the world featuring rhododendron flowers. These articles are deemed to be international significance and of broad reader appeal. Index of current and past RI issues.
---

Informative articles about:
- rhododendron & azalea culture,
- propagation,
- hybridizing,
- private & public gardens,
- plant portraits,
- companion plants,
- plant hunting exploration,
- rhododendron research,
- and much more.
Visit archive of previously published issues.
---

Visit the ARS' Pinterest social media web site.
Visit the ARS' Facebook social media web site.
Support the Van Veen Heritage Garden
In addition to creating a beautiful garden for visitors, the garden aims to provide a space for educational and learning experiences, especially for students at schools and colleges, using the Van Veen family heritage of three generations of rhododendron plant propagators.

Learn more about the Van Veen Heritage Garden, a 501c3 non-profit organization.
ARS Next-Generation Podcasts
Listen to "For the Love of Rhododendron" audio podcasts. In the podcasts we learn about the life experiences of ARS members, how random twists and turns in their lives led them to discover their love of Rhododendron. Our podcasts can inspire and inform others embarking on their own journey into the vast, uncharted territory that is plant genus Rhododendron. Podcast index
---
American Rhododendron Society
P.O. Box 43, Craryville, NY 12521
Ph: 631-533-0375 E-Mail:
, ARS, All rights reserved.