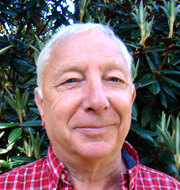 Welcome from Ken Webb - ARS President:
On behalf of the thousands of rhododendron enthusiasts worldwide "welcome to our web site." Here you will find valuable resources which enable you to learn more about the selection and care of rhododendrons. We hope this will encourage you to explore all that the genus Rhododendron (which includes azaleas) has to offer, and you will include these wonderful plants in your garden.
"Take a look" at what we do in the Society...
---
2019 ARS Fall Conference
The Mt. Arrowsmith Chapter is proud to host the 2019 ARS Fall Conference , Sept. 27-29 in Parksville, BC. The meeting features twelve distinguished speakers whose overall theme is 'Rhododendrons as the World Warms'. Three garden tour options are included, along with a plant bulb workshop and sale, two propagation workshops, a plant sale, photo exhibition, and silent auction. Put this event on your calendars. More information
---

Informative articles about:
- rhododendron & azalea culture,
- propagation,
- hybridizing,
- private & public gardens,
- plant portraits,
- companion plants,
- plant hunting exploration,
- rhododendron research,
- and much more.
Visit archive of previously published issues.
---

Visit the ARS' Pinterest social media web site.
Call for Research Grant Proposals
The ARS Research Committee is pleased to announce its call for applications for rhododendron research grants for 2020. Application details.
Grants Awarded for 2018
• Dr. Jana C. Lee, USDA Horticultural Crops Research Unit, Corvallis, OR
• Dr. Gerardo H. Nunez, University of Florida, Gainesville, FL
• Dr. Johan Van Huylenbroeck, Flanders Research Institute, Melle Belgium
---
American Rhododendron Society
P.O. Box 214, Great River, NY 11739
Ph: 631-533-0375 Fax: 866-883-8019 E-Mail:
, ARS, All rights reserved.