Elepidote Rhododendron: 'Janet Blair'
Parentage unknown
Flower very pale pinkish mauve with golden bronze rays on the upper lobe, widely funnel-shaped, fragrant, frilly edges, about 3½" across. Held in tall truss of about 13 flowers. Blooms midseason. Leaves elliptic, with a slight ripple, 5" long, glossy, dark green. Dense, mounding growth habit. Typical height: 6 ft. in 10 yrs. Plant is hardy to -15° F (-26°C). Heat tolerant. Hybridized by Dexter.
Evergreen Azalea: 'Herbert'
R. yedoense var. poukhanense x R. 'Hexe'
Flower vivid reddish-purple with a darker blotch, openly funnel-shaped, 1¾" across, frilled edges, hose-in-hose. Blooms midseason. Leaves elliptic, acute apex, cuneate base, about 1" long, medium green. Dense, spreading habit. Grows to a height of 3 ft. in 10 years. Cold hardy to -10° F (-23° C). Hybridized by Gable.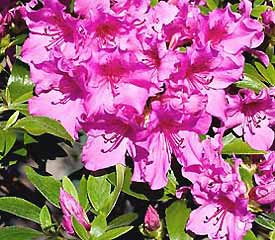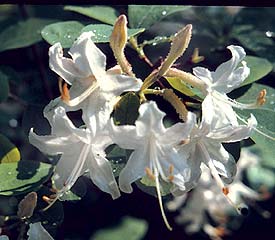 Deciduous Azalea: R. atlanticum
Species rhododendron in subgenus Pentanthera section Pentanthera subsection Pentanthera
Known as the Coastal azalea. Flower white often flushed pink, narrowly funnel shaped, very fragrant. Flowers before or just as the new leaves open. Blooms midseason. Leaves ovate or obovate to elliptic, up to 2" long, bright bluish-green, deciduous. Grows to 3-4 ft. tall in 10 years. Cold hardy to -15° F (-26° C). Easily propagated by division, root or stem cuttings. Native to the eastern United States coastal plains from Pennsylvania to Georgia.