Indumentum and Tomentum
Many rhododendrons have felt-like coatings on the top or bottom of the leaves. Composed of small hairs, the coatings can be white, tan, reddish brown or dark brown colored. See photos for illustrative examples.
Indumentum (Latin, literally: "garment") is a coating of hairs on the undersides of a leaf. Tomentum is a coating of hairs on the top surface of leaves. Stems and flowers can also be hairy, and this is generally referred as "tomentose". A plant surface with any kind of hair is said to be "pubescent".
Indumentum forms a protective, woolly layer that sheds water and/or provides leaf protection. During cold, dry weather, the hairy indumentum that covers the leaf's underside becomes an insulating shield. Some of the plant hairs hold water and absorb it to provide the plant with moisture in times of drought. During times of heavy rain, the hairs are used by the plant to transpire excess water from the surface of the leaf. Indumentum also provides some protection from insect damage.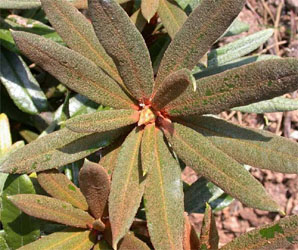 Indumentum types include: Hirsute (hairy, shaggy, long-haired), Pilose (long soft hairs), Villous (shaggy), Stellate (radiating in a star-shape), Scabrous (small projections rough to the touch), and Scurfy (very rough to the touch).