Companion Plant: Viburnum bodnantense
The winter-flowering Bodnant viburnums are tall, fairly narrow shrubs which have bunches of tubular pink flowers on leafless stems. They bloom in late winter and have frost-resistant blooms which stay for weeks and are quite fragrant.
The species name 'bodnantense' refers to Bodnant Gardens, North Wales, where the hybrid was raised in 1935. The Bodnant vibumum grex (a grex denotes all the offspring of a particular cross) is a cross of the Chinese viburmum farreri with the Himalayan viburnum grandiflorum and, includes the cultivars 'Dawn', 'Charles Lamont', and 'Debian'.
'Dawn'...often called 'Pink Dawn'... is commonly grown and is widely available. 'Charles Lamont' has dark pink flowers which are somewhat larger than 'Dawn'. 'Debian' is tall and has a stiff habit with slightly fragrant whitish flowers which turn red with age.
'Dawn' is a deciduous upright shrub, 2-4 m. (6-12 ft) in height. It blooms in Fall and Winter after the leaves have fallen. Before they fall, the leaves turn a burnished bronze color. Red buds open to fragrant pink flowers that fade to white flushed with pink as they age. Wet weather and frosts may limit flowering display. Branches can be forced inside for a winter bouquet. The fragrance indoor may be somewhat overpowering.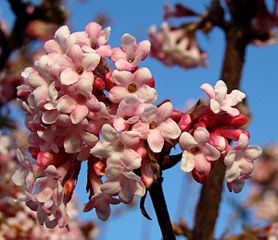 Photo by Giraffenigel
'Dawn' is not particular as to its location, liking sun, but also doing well in partial shade. It enjoys acid, well-drained soil, but does well enough in other soils. It is fairly cold-hardy...but requires a protected placement where the chilliest winds won't hit it at temperatures below zero degrees F. Overall, this hybrid is very adaptable.
Since the plants are fragrant, grow them near a path you are like to use frequently. You will be rewarded! Otherwise, you won't appreciate the scent at a time of year when you're less inclined to go down a damp cold garden to smell it. The flowers have a pleasing perfume. The new leaves get so large that the blooms occurring the rest of the year can pass unnoticed. The leaves smell like citrus if crushed or bruised.
Success With Heathers
The singular species, Calluna vulgaris, inhabits large portions of Europe and northern Africa, from Siberia to Morocco, in vast tracts of open land and hillsides. The predominant flower color is purple...but it sports out in pink, red, and white. For well over 100 years, avid plants men have made over 500 selections of form, bloom, and foliage variations, and some of them are real eye-poppers!
Now, if you are one of those people that think that they always look so ratty, I am about to show you the error of your ways. Site selection is probably the most important factor. These are ericaceous plants...in the same family as rhododendrons...and like them, we should take our lessons from Mother Nature. Full sun is an absolute must and some slope to the ground is very beneficial. Soil should drain well, but retain some moisture, especially in summer during bloom time, anywhere from July to November depending on cultivars. An acid, humus-rich soil with no manures or strong fertilizers is necessary...a lean media keeps the growth compact. If you cannot engineer even a bit of a slope, then be sure that the soil is deep and loose. And then...prepare to PRUNE!
Ok, ok, and ok! I know no busy band of elves prunes on the moors, but truth be told, if you took aside only one or two of those million of plants, they probably would be ratty...but there's safety in numbers and distance. We do not have that advantage in our gardens...so get out the hedge clippers. March is a good time to do this...trim just to the bottom of last year's flower spikes to make a somewhat mounded shape. Now, was that so hard? Once a year is all it takes, and a spring pruning still lets you enjoy all that wonderful winter foliage on the colored forms.
Choosing varieties for your garden will be by personal preference. With that many to pick from, it is like roses or rhodos...grow the ones you like to look at. I can only give guidelines of the forms that are available. The flowers can be single or double on long or short spikes. I have taken full open spikes of 'Peter Sparkes' and 'H.E. Beale' and hung them to dry, and they make wonderful bouquets...unfortunately, not too durable...but so easy you can do new ones every year. Colors range from white and pale pink to bright pink, crimson, and purple. There are varieties like 'Marleen' that seem to bloom forever since the blossoms don't ever actually open, just show outer color.
The foliage on some is so spectacular that even if they didn't bloom, no one would notice. Red-gold ones like 'Firefly', 'Blazeaway', 'Boskoop', and 'Sir John Charrington' are bright all year round. Silver ones like 'Jan Dekker', 'Silver Knight', and 'Grey Carpet' will gleam against dark backgrounds. Some like 'Spring Torch' and 'Spring Cream', have colored foliage on new growth only...almost like an early bloom...and then the proper flowers come later. Very dwarf ones can be used in troughs or rockeries, as 'Foxii Nana', 'Dainty Bess', 'Humpty Dumpty' and 'J. H. Hamilton'.
The list is endless...but this should give you an idea of the lovely ones there are to choose from. Visit gardens and plant centers in summer when they are in bloom. I only wish I had more room in my garden to have an entire bank devoted to them...in drifts of all year color.
Happy planting!
Weigela...a companion plant
Once the main splash of rhododendrons is over, there is a charming group of plants that fills the color gaps in our landscapes quite nicely. Named after a German botanist, Christian von Weigel, Weigelas are deciduous shrubs of open woodland areas in parts of Asia which have a multitude of foliage and flower features.
Most of our available varieties are selections or hybrids of two species: W. florida and W. praecox, although the wild forms are rarely offered. The blooms, in May and June, are tubular, in small clusters along older stems, often with nicely contrasting stamens. In blossom, they attract hummingbirds by the flock.
The "in" thing these days among plant introducers is purple leaves, starting back with 'Foiliis Purpureis' ('Java Red')...on to 'Victoria', then 'Wine and Roses' ('Alexandra'), 'Ruby Queen', and now 'Midnight Wine'! The color is getting darker, and the plant habit is getting smaller...what's next...a black groundcover Weigela? Attractive and useful plants nevertheless...most of them have pink to bright pink blooms.
The 'Dance Series', developed by Agriculture Canada, have all been selected for very compact habits, extra hardiness, and richly colored blooms. Foliage variations are from green to burgundy, with deep pink or red blooms. Look for 'Tango', 'Polka', 'Samba', 'Rumba' and 'Minuet'.
Gold-leafed forms are a bit more finicky...they need partial shade to avoid foliage burn but too much shade makes them go green so it's a fine line. 'Looymansii Aurea' has pale pink blooms, while the newer 'Briant Rubidor' (aka 'Olympiade' or 'Golden Ruby') has dark ruby flowers that offer a striking contrast. Variegated leaves, with cream to light yellow margins, occur in both species, and have pink flowers. The variegated areas take on rich pink to red tones in fall, for extra punch.
White-flowered forms are available as 'Bristol Snowflake', 'Candida', 'Mont Blanc', and others...but I must admit I don't really care for them...although 'Mont Blanc' is highly rated. Possibly I just haven't seen one at the right stage or in the right setting. A new introduction, 'Carnaval', has blooms of white and two shades of pink all at once on the same plant. That's kind of neat! For deep red, the old 'Bristol Ruby' and 'Eva Rathke', although good and reliable, have been superseded by newer, tidier, non-fading varieties like 'Red Prince', 'Lucifer', and the even smaller 'Nain Rouge'.
Weigelas grow easily in any well-drained moderate soil...and old bloomed-out stems can be cut to the ground to allow new ones to take their place. Trim right after blossoming in the early summer to keep leggy branches in order, and to give time for the wood to ripen and set bloom for next year. Some varieties will bloom off and on throughout the summer, and other appear in early summer and again in early fall.
Two unusual species, W. middendorffiana and W. maximowiczii, have light yellow flowers in late spring...most "un-weigela-like", but truthfully I have not seen either offered for sale locally. Good for you if you can fine one!
Look around in the plant centers when you've gotten all your beddings settled and your rhodos are on the wane...and you'll find one of these to be a delightful addition to your garden...big or small!
Happy Planting!